Oak Lake – Album Artwork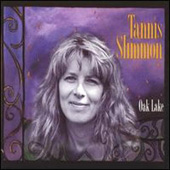 The Cover
The painting used for the cover was a commission by Maria Pezzano, a wonderful artist living and working here in Guelph, Ontario. Her artistic creation of my vague descriptions actually changed colours when scanned on our whacky scanner and we went with it!! Lewis worked his digital magic before we sent it off to my supergraphicmancousin Brian in Winnipeg, who went above and beyond graphicdom to accomodate so much more than I could ask for.
THE BOOKLET
Page 2
The painting over the lyrics of "Falling Together" was graciously done by Carolyn Riddell, a wonderful artist living and working here in Guelph. She heard the song, read the lyrics and voila!
John Charlton took that shot of me looking at the window.
Page 3
"Maisy Go Round" is a song about dancing at a very early age in Ryerson, a one-room schoolhouse at the corner of our farm. Not only was it my first school but it acted as the community centre for the district … hosting dances, showers, welcoming and going away parties. My brother Trevor took this memorable picture.
Page 4
Before I met the wonderful artist Tracy Harrison, she had created a series of pieces including one which she called "Lift". When she heard my tune "There's A Lift", the serendipitous connection was realized.
Much later, I performed at Tracy's art opening at Zero Gravity studio and as I sung the words 'it's a gift, and I know it', I watched Tracy get up on a chair, remove the piece from the wall, approach the stage and wait patiently for the end of the song to present it to me. It graces the lyric page for "There's A Lift".
The photo below the lyrics shows the choir of 26 Guelph friends who gathered to sing on this tune, sitting listening back to the tracks.
Pages 5 & 6
The centrefold collage includes 18 pictures. Moving across the page and down…
A photo taken in the '30's of my Dad (with saxophone) and his orchestra kneeling infront of St. David's church, just 8 miles north of Oak Lake, Manitoba.
Josh Finlayson
The Oak Lake Fair parade during the Centennial year (1967). I decorated my big sister's bike and rode it in the parade.
Playing Sam's old Tacamine at a memorable jam at Sandy's farm
Dave Clark
Sue Richards, myself and Nancy Floyd at the Carden Street Cafe…folks get us mixed up and you can probably see why. Sue has had many a pat on the back for her 'great show!' after Bird Sisters' performances.
Alfons Fear
Moi, taken by Sue Smith in her back yard
Mailboxes near Ryerson school
Lewis Melville infront of a John Hass painting
A piece of a Lewis Melville original which was used for the actual CD artwork
My first solo gig at the wonderful Carden Street Cafe. John Charlton, Sue Smith, Lewis Melville, Mike Osler (not shown), Vicki Fraser (not shown) and Kate Richmond (not shown) also joined me on that special night.
Playing congas and singing on John Charlton's "Masked Man Behind The Wheel" with Benji at Hillside 1999. Brian Hodgson was on drums behind me.
A fun shot found in my brother Trevor's collection of fine photos
John Charlton playing with me at my friends' Mark and Ange's wedding in the fall of 1999
Chris Marks, Nick Craine and I getting ready to mix "I've Known It" in the studio
A piece of Maria Pezzano's cover painting, somewhat closer to the original colour
My farmyard near Oak Lake, Manitoba…Holstein cows and a Massey Harris tractor.
Page 7
The grand farmhouse I grew up in was bought from the Eaton's catalogue in the 1920's and shipped in pieces in a boxcar all the way from Vancouver to Oak Lake, Manitoba. My grandfather hauled the pieces by horse and wagon to the farm 10 miles north of town and hired a crew to help him build it, while my grandmother toiled for weeks to feed the workmen. These Eaton's houses dot the Prairies.
Page 8
My parents in the Canadian Gothic series, prompted by my fun-loving brother and photographer Trevor. My dear wee namesake Tannis Hydesmith and I pose on this page as well.
Page 9
A stunning view just 3 miles from my farm. The hill drops away quickly and I suspect it might have been a buffalo jump in earlier times. This photo was taken by my friend Bill Hale who was travelling across Canada one summer while I was visiting at the farm. He caught me smelling a prairie rose and contemplating the view.
Page 10
My dear friend Angel Calnek and Sher Stooke flew out from Winnipeg to Ontario one summer to experience the magic of Guelph's Hillside festival. Angel was inspired by Goldie Sherman's African dancing and created this incredible stained glass 'Dancing Goddess' when she got home. She apparently thought of me the whole time she was making it (something about the hair!) and so I was the extremely honoured recipient. The 'Goddess' has graced "Women In The Groove" posters.
Back Cover
I'm the proud owner of this gleeful Maria Pezzano original, part of a series she created in 2000. It helped spark the idea to commission Maria to do a painting for the album cover and I was able to show her the final version of her efforts exactly one year after I purchased this first piece at the Guelph Arts Festival.