In and Out of Harmony
In and Out of Harmony is the follow-up to Tannis' award-winning 2007 release Lucky Blue and, like its predecessor, the album bears traces of her travels and studies in Mali and Cuba. JUNO-winning kora player Mansa Sissoko and ngoni master Abdoulaye Kone contribute spirited performances, and the record is textured with the percussive, West African sounds of the darabuka, karagnan and Agogo bell.

The guest list reads like a Who's Who of the Canadian roots music scene. Among the many distinguished players who lent their touch to the album are Martin Tielli and Dave Clark (Rheostatics), Harry Manx, David Francey, Ray Bonneville and Treasa Levasseur, not to mention Tannis' 89-year old mother!
Tannis' long-time partner and collaborator, multi-instrumentalist and producer Lewis Melville (Rheostatics, Woodchoppers), tastefully incorporates global flavours to build a unique, richly textured folk sound. Album opener "Are You Ready" is a stand-out with its haunting vocal harmonies. Another highlight is "Sekou", a somber celebration of Malian virtuoso drummer Sekou Kone, who died of malaria in his late teens shortly after Tannis met him in 2004. Lewis had recorded Sekou playing his talking drum and fashioned a solo out of some unused drum tracks for this tribute.
The songs on In and Out of Harmony tackle some difficult universal themes like environmental degradation and depression, ageing and mortality – the kind of sorrows that bind us together.
Legendary folk music impresario Richard Flohil has rightly called Tannis' new songs "messages of hope, optimism and decency"; the album does indeed contain a collection of celebratory songs so well crafted that they do already feel like classic campfire anthems.
Order In and Out of Harmony today! Choose your location and click "Add to Cart", and Tannis will autograph your CD before it gets mailed to you.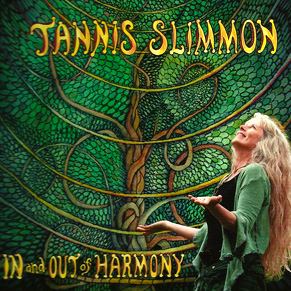 Album Credits:
Produced and recorded by Lewis Melville
Mixed by Lewis Melville & Scott Merritt (The Cottage)
Mastered by João Carvalho
Illustrations by Lewis Melville, photo by Dean Palmer, graphic work by Brian Hydesmith, portrait in booklet by Sarah E. Quick.
Players:
Tannis Slimmon: Lead and harmony vocals, acoustic & electric guitar, Nashville
(high strung) guitar, mandocello, autoharp, ukulele, animal sounds
Lewis Melville: harmony vocals, acoustic and electric guitar, nashville guitar,
banjo, dobro, mandolin, mandocello, pedal steel, accordion, organ, bass, drums,
percussion (djembe, darabuka, tambourine, tung drum, wooden cowbell, karagnan,
tam tam, wood block, Agogo bell), animal sounds, rain
Special guests:
Abdoulaye Kone – ngoni
Anne Lindsay – violin
Daniel Fischlin – electric guitar
Dave Clark – drums
David Francey – harmony vocals
Fireweed (Jamie Campbell, Rob Unger and Gary Rasberry) – harmony vocals,
animal sounds
Harry Manx – slide guitar
Ina Slimmon – harmony vocals
Jude Vadala – harmony vocals
Katherine Wheatley – harmony vocals
Mansa Sissoko – kora
Martin Tielli – harmony vocals, electric guitar
Michael Herring – bass
Michael Johnston – harmony vocals, organ, piano
Ray Bonneville – harmonica
Rebecca Campbell – harmony vocals
Rebecca Hennessey – harmony vocals, trumpet, baritone horn
Rosemary Phelan – harmony vocals
Sekou Kone – talking drum
Tom Melville – piano
Treasa Levasseur – accordion
Wendy Slimmon – harmony vocals