Biography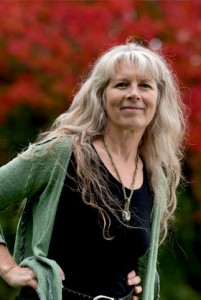 Tannis Slimmon is a critically acclaimed Canadian musician who has been singing, songwriting, recording, and touring locally, nationally and internationally for over 35 years. In 2008 she was honoured with the Contemporary Vocalist of the Year at the Canadian Folk Music Awards for her album Lucky Blue.
Tannis grew up in a musical family on a farm in the prairies of western Canada. In 1980 she moved to Guelph, Ontario, where she began a serious professional music career. During the 80's and 90's she was a founding member of various regional roots bands (the Reverbs, Benji, etc.), and appeared as a special guest on recordings and performances with key players in the CanRock Revolution (Rheostatics, barenaked ladies, grievous angels).
After eleven years with the legendary trio The Bird Sisters she struck off on her own in 2001 with her solo debut Oak Lake and followed it up with 2007's award winning Lucky Blue and 2013's In and Out of Harmony. All her albums are highly regarded by critics and audiences alike with the latest being described as '..infectious, uplifting and thought-provoking all at the same time' (Beatroute) and 'an honest and endearing addition to an already impressive catalogue' (Penguin Eggs).
Tannis traveled to Mali, West Africa in 2004 with a quartet of musicians exploring the role of music in development and appears in the documentary of the trip Road To Baleya, by Bay Waymen (Close Up Films). She subsequently visited Matanzas, Cuba where she studied afro-cuban rhythms with master bata drummer Gilberto Morales-Chong. She has hosted Malian musicians in her home for two summers as part of an ongoing cultural exchange. Her experiences in Mali and Cuba have had a significant influence on the musical texture of her album "Lucky Blue".
You will find Tannis' name on over 100 albums, contributing songs or singing harmonies for others including David Francey, Willie P. Bennett, Valdy and Rheostatics. Tannis plays guitar, mandolin, bass and percussion but it is her singing that she is most known for. She performs solo, in a duo with Lewis Melville, in a trio called Boreal, and in the vocal collective the Ondine Chorus. She has performed at folk clubs, festivals and community centres across Canada, and her music can be heard on public and college radio across North America.
Recognition:
In addition to the Folk Music Award, Lucky Blue garnered the Independent Music Award for Best Folk/Roots Song for "Ernest, Charlie & Allan", a nomination for Best Folk/Roots Album from the same, a spot in the Top 10 Critics Albums of the Year by Penguin Eggs (Canada's Premier Folk/Roots Music Magazine), a Porcupine 'Golden Quill Award' for songwriting, and was 16th on the Galaxie Folk/Roots Channel's Top Spins of 2008. Lewis Melville was nominated for Producer of the Year for Lucky Blue as well at the 2007 Canadian Folk Music Awards. Tannis' 2001 album Oak Lake won the Porcupine award for Favourite Album of 2001 and the Orillia Folk Society's Songs for Living Rooms for "There's A Lift". She received the Estelle Klein Award from Folk Music Ontario in 2020.
Tannis has a gift for engaging an audience with her voice and original songs, loves collaboration, and particularly adding voices to her many singalongable songs.