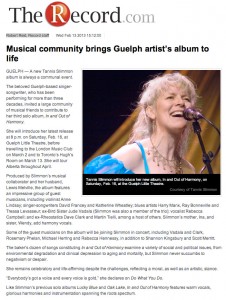 Musical community brings Guelph artist's album to life
Robert Reid, The Record
GUELPH — A new Tannis Slimmon album is always a communal event.
The beloved Guelph-based singer-songwriter, who has been performing for more than three decades, invited a large community of musical friends to contribute to her third solo album, In and Out of Harmony.
She will introduce her latest release at 8 p.m. on Saturday, Feb. 16, at Guelph Little Theatre, before travelling to the London Music Club on March 2 and to Toronto's Hugh's Room on March 13. She will tour Alberta throughout April.
Produced by Slimmon's musical collaborator and her husband, Lewis Melville, the album features an impressive group of guest musicians, including violinist Anne Lindsay; singer-songwriters David Francey and Katherine Wheatley; blues artists Harry Manx, Ray Bonneville and Treasa Levasseur; ex-Bird Sister Jude Vadala (Slimmon was also a member of the trio); vocalist Rebecca Campbell; and ex-Rheostatics Dave Clark and Martin Tielli, among a host of others. Slimmon's mother, Ina, and sister, Wendy, add harmony vocals.
Some of the guest musicians on the album will be joining Slimmon in concert, including Vadala and Clark, Rosemary Phelan, Michael Herring and Rebecca Hennessy, in addition to Shannon Kingsbury and Scott Merritt.
The baker's dozen of songs constituting In and Out of Harmony examine a variety of social and political issues, from environmental degradation and clinical depression to aging and mortality, but Slimmon never succumbs to negativism or despair.
She remains celebratory and life-affirming despite the challenges, reflecting a moral, as well as an artistic, stance.
"Everybody's got a voice and every voice is gold," she declares on Do What You Do.
Like Slimmon's previous solo albums Lucky Blue and Oak Lake, In and Out of Harmony features warm vocals, glorious harmonies and instrumentation spanning the roots spectrum.