Lucky Blue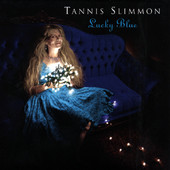 LUCKY BLUE
1. Ernest, Charlie & Allan (itunes)
2. Mountain of Love (itunes)
3. Our Time Now (itunes)
4. Spirit House (itunes)
5. My Bike (itunes)
6. Edmonton (itunes)
7. Weathervane (itunes)
8. My Body Moves (itunes)
9. What I'm Going to Do (itunes)
10. I Never Dreamed (itunes)
11. Around Him (itunes)
12. Underground Railroad (itunes)
Tannis' second solo album entitled Lucky Blue was named to acknowledge her own fortunate life and the rich colour of many favourite things…first guitar, the perfect touring car, a cherished summer festival… Rounding out Tannis' pure vocal tones and quintessential harmonies are the multi-instrumentalisms of her musical partner & producer Lewis Melville, soulful slide guitars of Ken Whiteley and Dan Walsh,the African kora of Malian griot Mansa Sissoko, the low-down bass of George Koller, duet vocals of David Francey, harmonies of Stephen Fearing, Scott Merritt, Shelley Marshall & Keri Latimer (from Winnipeg's Nathan, Katherine Wheatley, Jude Vadala, and The Dust Poets, Slimmon nieces and so much more, including the crows of a Bhutanese rooster!
Ten original tunes and two Melville covers pay tribute to Canada's past in "Underground Railroad", reveal the gut-wrenchingly human side of war in "Edmonton", and blow wind through your hair on an attitude-changing ride in "My Bike".
The beautiful blue album package was put together by Hydesmith Communications and features artistic works by many talented visual artists from Tannis' community of Guelph and beyond: Pearl Van Geest, Nick Craine, Carolyn Riddell, Dean Palmer, Candace Sepulis, Greg Denton, Ellen Beeken and Sona Mincoff, including a portrait by Mendelson Joe. Nick Craine colourized Dean Palmer's black and white photo (part of the "Green Room Series") for the front cover and also designed the gallery walls on the inside of the digipak and the booklet centrefold.